In November 2017, members of the student club 'Fukurou', in which seven of them are SGHSS (School of Global Humanities and Social Science) students, participated in the Goshuinsen Project, which aimed to promote cultural and economic interactions between Japan and Vietnam. In this project, Japanese delegates visited Hoian and presented the model of Goshuinsen, where they also made a public performance of Nagasaki Kunchi. In fact, Hoian, which is well-known for being a UNESCO World Heritage site, has developed deep historical ties with Japan. For instance, a Japan town was established in Hoian in the early Edo period and exchanges between Hoian and Nagasaki were common. It is hoped that this project could further strengthen the friendly relationships between Japan and Vietnam.
Comments below
"We visited Hoian, Vietnam as members of the Goshuinsen Project. We performed Nagasaki Kunchi using the replica of the ship called Goshuinsen. Some members carried the ship while others played musical instruments on the ship. Through these activities, we were able to interact with not only Vietnamese but also people from Nagasaki. Above all, we were honored to meet the Japanese Prime Minister Sinzo Abe and H.E. Mr. Nguyen Xuan Phuc, Prime Minister of Vietnam.
We also had the opportunities to interact with Vietnamese students who study Japanese. They welcomed us warmly, taking us to historical spots and serving us Vietnamese food. We really appreciate their hospitality and hope to maintain our valuable relationships. We believe that we can become the bridge between Nagasaki and Vietnam."
Member: Naoko Oishi, Kotoko Okumura, Yoshiko Ogawa, Hiroki Kajiwara, Manami Kawatoko, Miki Horikawa, Naoki Maki (SGHSS)
written by SGHSS students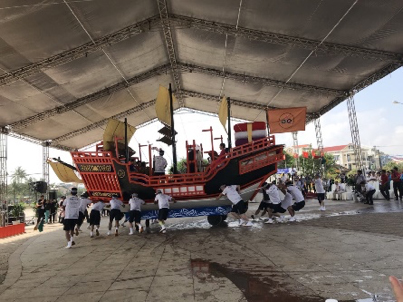 "Funamawashi" Performance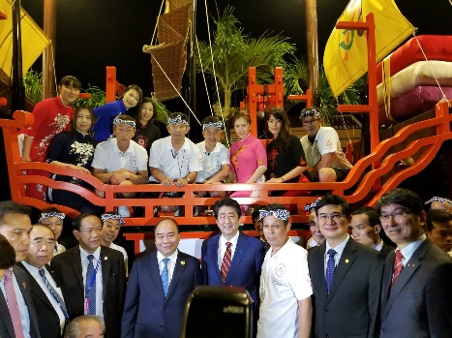 Delegates with Prime Minister Abe and Prime Minister Phuc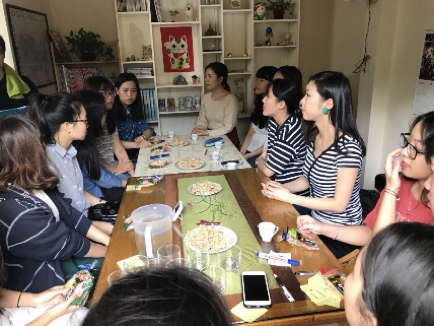 Interaction with Vietnamese students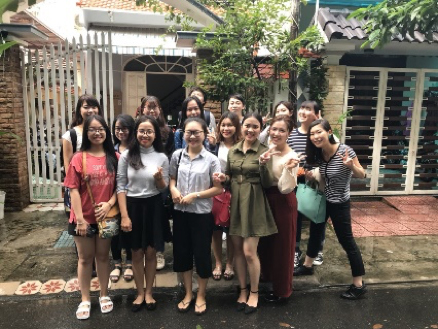 Vietnamese students and SGHSS students